A holiday in Maramures, Romania, in 2020, is something to be considered. Maramures is a place where time stands still.
An important historical region, close to the Ukrainean border, it preserved its traditional look over the centuries. There are plenty of websites where you can find good information.
How do you get to Maramures?
Start from Bucharest. We can pick you up and then transfer you to Maramures area. We will spend the first night in Cluj and visit this beautiful Transylvanian city, then we will head to Maramures. Check out our Maramures tour here.
Start from Cluj. You fly into Cluj and our team can pick you up from there. First, you will enjoy a tour in one of the most prosperous cities in Romania and see the main highlights: The Gothic Cathedral, Union Square, Avram Iancu square.
How many days do you need?
We suggest at least five days. Maramures is quite big and there is a lot to see. Not to mention that you can combine it with Bucovina. Our partner from Australia put Maramures and Bucovina on her bucket list, for winter: http://www.holysmithereens.com/2020/01/winter-wonderland-in-romania/.
The best time to visit. Things to do in Maramures.
The best time is anytime. In the winter you can photograph the snow capped mountains, enjoy rides with the horse and sledge, enjoy Christmas and New Year's Eve (there's a lot of dancing and singing this time of year), visit a horinca distilery, and much more.
Spring there is really beautiful. Everything is green, the flowers are in bloom, and people start work on the farm. It is also time for interesting celebrations.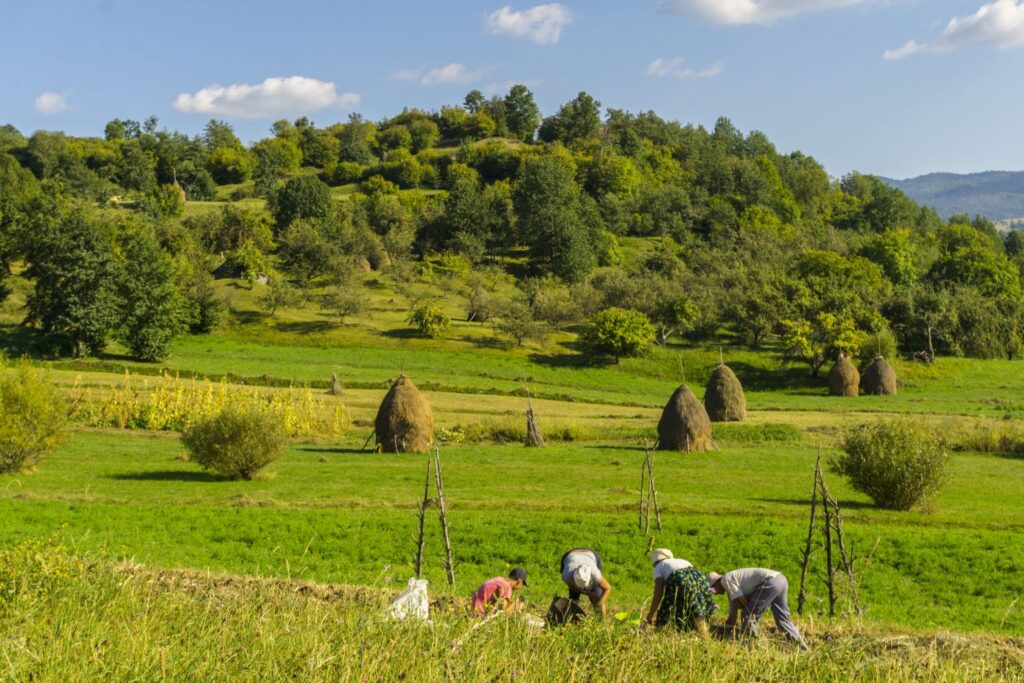 In the summer time, you can enjoy a lot of outdoor options: hiking, sightseeing, biking in the tiny villages.
Autumns is the best season for photography but not only. The making of the plum brandy and the preparation of the pickles is also something cool to see.
Local beverages. The star is horinca.
You have not tasted Maramures unless you tasted horinca, the local home made brandy. We know some people who are our local suppliers. Whenever we go to Maramures we visit Sebi and Viorel.
Wooden churches
An unique thing in Maramures is the wooden churches. Most of them built around the  XVII th, XVIII th and XIX th century, they are something really special. The tallest one is at Sapanta, close to the Merry Cemetery.
The Merry Cemetery in Sapanta
One of the jewels of the crown, if you will. According to the story, Stan Ioan Patras wanted to present death in a more…colourful and cheerful way. The tombstones in the cemetery tell colourful and cheerful (literally) short stories about the life of the deceased. Definitely worth a visit. Even Lonely Planet talks about it.
We offer tours in Maramures all year round. Besides the main highlights, we know many hidden gems. Come with us to explore Maramures!