if you want to see the mountains in Romania in winter, there are plenty of options. The Carpathians in Romania are absolutely beautiful.
One mountain area which we always recommend is Iezer Papusa. Iezer Papusa is a wild but spectacular mountain.
About Iezer Papusa Mountains
To get to this mountain you have to drive for three hours towards west, towards Pitesti city. The highest peak in Iezer is Rosu Peak, 2469 m. The best way to enjoy this area is to do a two day tour.
What will you see in Iezer Papusa?
Beautiful and thick forests, high peaks over 2000 m, a beautiful glacial lake at 2100 m altitude. You can sleep for the night in Iezer refuge, which is by the lake. In the morning you can climb Iezerul Mare and Iezerul Mic Peaks, or hike on Vacarea ridge.
Hiking, photography and snowshoeing
We organized some hiking and photography tours in Iezer Papusa. The first time we did this was in September and October 2017. We used drones and we also did time lapse, and we stayed at Iezer refuge.
This year in February we organized a snowhoeing and photography tour with a repeat guest from the UK. The weather was absolutely fantastic, for two days.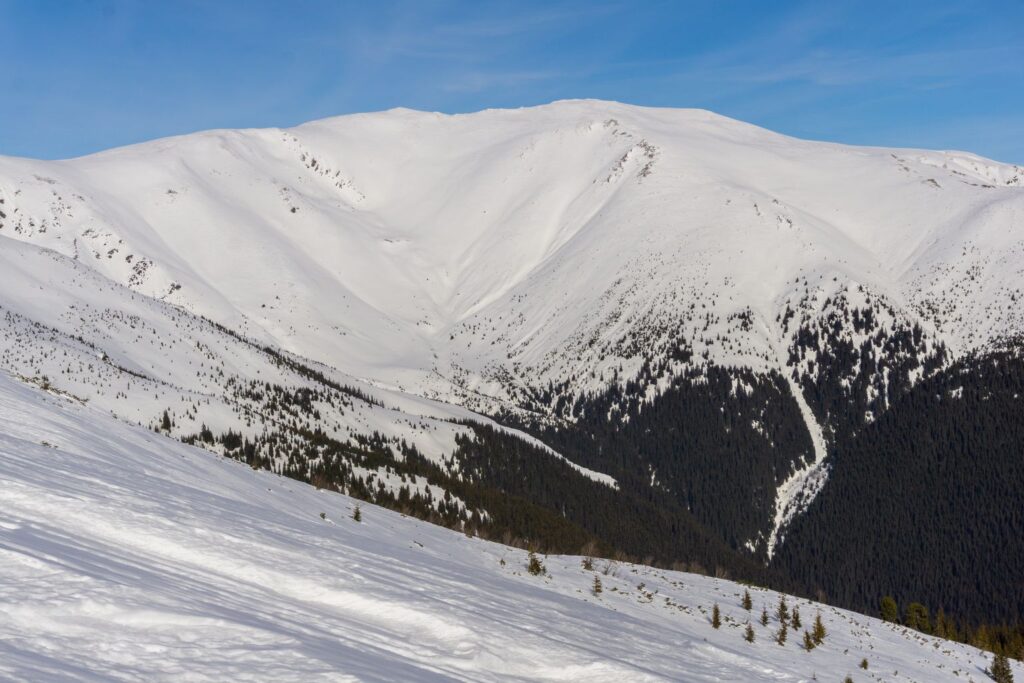 Check out our two day tour below:
,,Day 1: After an early start in the morning, we drive from Bucharest to Campulung Muscel and then to Voina hut, the departure point for the day. Situated at the foot of the mountain, Voina offers a short glimpse of the beautiful Iezer Papusa Mountains.
Our route goes through the forest, across the river, straight into the heart of the mountain. Slowly but surely we'll get to a lovely meadow where we'll make the first stop. The place is so quiet and peaceful that it will inspire you to dream…
The view begins to unfold so now you'll get to see the amazing surroundings. As we go up, we get perspectives of Piatra Craiului and Bucegi, far in the back. But that is not all; the great ridge of Iezer looks awesome too…are you sure you have enough storage on your cameras?
Our aim for the day is Iezer refuge, situated in a valley, at 2000 m altitude.
The day ends at the refuge but not before we take some cool snapshots with the awesome scenery.
We will spend the night in a mountain refuge.
Day 2: If you thought you've seen everything that Iezer Papusa has to offer…think again. Today we're climbing up to Ateneu Cross and go to see..Fagaras Mountains! Yes, that's right, far in the distance the imposing Alps of Transylvania are waiting to be photographed.
If you add the views towards Iezer ridge and its high peaks, over 2000 m, the puzzle is complete.
From the ridge we will descend on Vacarea plateau, back to Voina hut."
Book your guided tour here.